| | |
| --- | --- |
| Brand | VOKUL |
| Color | Purple/Orange |
| Handle Height | 23 Inches |
| Number of Wheels | 2 |
| Wheel Material | ALLOY |
| Wheel Size | 110 Millimeters |
About this item
𝗣𝗿𝗼 𝘀𝘁𝗮𝗻𝗱𝗮𝗿𝗱. Saga 2 evolves from Saga 1st generation. Vokul Saga pro scooter is among Vokul original series, which is of pro standard. Chromoly 4130 steel handle bars, aluminum deck, 110mm wheels, integrated headset, heat treatment, all these are the basic of a real pro scooter. Saga uses IHC compression system which is most popular. You can easily buy compatible after-market parts if you need maintenance, repair or upgrading.

𝗢𝗻𝗲-𝗽𝗶𝗲𝗰𝗲 𝗮𝗹𝘂𝗺𝗶𝗻𝘂𝗺 𝗳𝗼𝗿𝗸.Saga 2 is equipped with one-piece aluminum fork, which is lighter than steel fork. And such precisely machined fork will always keep the wheel in line, which a steel fork may not guarantee.

𝗚𝗿𝗲𝗮𝘁 𝗪𝗼𝗿𝗸𝗺𝗮𝗻𝘀𝗵𝗶𝗽. Unlike other self-claimed pro scooters, which are pieced together from generic parts, Vokul Saga 2 are designed in house. Higher than industry standard tolerance is applied to make sure each part works smoothly with the other. You may see all scooters look alike. Workmanship can only be felt while riding.

𝗖𝗹𝗲𝗮𝗿 𝗮𝗽𝗽𝗲𝗮𝗿𝗮𝗻𝗰𝗲. Vokul Saga 2 doesn't have much graphic in order to give a clear look. The surface of all parts is firstly polished before next treated. The joint parts are TIG welded, which provides stronger as well as cleaner and more appealing joints.

𝗟𝗶𝗴𝗵𝘁 𝘄𝗲𝗶𝗴𝗵𝘁. Vokul Saga 2 weighs only 7.9lbs while most scooters weigh over 8lbs. Saga is for intermediate rider progressing to advance level. Such rider has already mastered some beginner tricks, like barspin, fakie, bunny hop. Now he needs a lighter stunt scooter to do more complicated tricks in the air.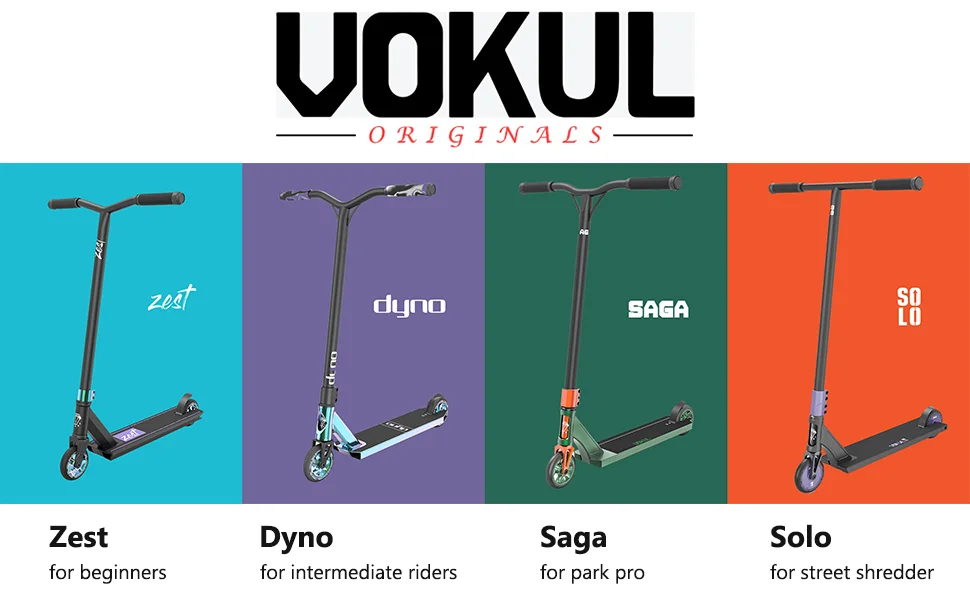 You know what? Most self-claimed pro scooters are pieced together from generic parts by different makers. Some may look nice, but actually may not work so. Vokul original series is designed in house. The dimensions of each part are calculated and machined precisely to make sure one works smoothly with the other.
Member of ISA

Vokul is a member of ISA ( now ISF, International Scooter Federation) since 2018 and has sponsored most competitions held by ISA.

Sponsor of SCTJAM VIII

Vokul sponsored SCTJAM VIII. Vokul is committed to the development of scooter industry

Team rider Aidan Zappia

Vokul is and will be sponsoring young riders to help them realize their dreams. Will your kids join Vokul team?

Sponsored rider Finley Campell ( age 12)

Vokul sponsored rider Finley won 3rd place of women's in SCTJAM VIII. Your kids can also make it.

Choosing Vokul, you are not just buying a pro scooter, you are giving your kids a happy childhood and building their confidence. what's more, by supporting Vokul, you are supporting the scooter industry so that your kids have free skate park to ride in and chance to realize their dreams.